Mary's Kitchen Column recipes, Hibiscus Matters newspaper:
Dec 2019 Baked Ham with Peaches
 August 2019 Lime & Fig Lamb Shanks
Feb 2019 Duck Mango Salad

If you are able to, then eating fresh from your garden is always the best option so you know what is in your food, if not then I recommend buying fresh, high quality product direct from the grower at a farmer's market. Choosing spray free or organic helps retain nutrients for added benefits. Perfect for the hot summer nights we are having, this recipe can be altered to use whatever ingredients you have available.
280g duck breast, oven roasted until nearly cooked. Rest/cool and slice. Alternately use pork, chicken or prawns
1 mango, peeled, sliced or cubed
1/4 cup almond flakes
Serves 2. For the salad, mix together
1/4 lettuce, finely shredded
1 large carrot, grated or shredded
½ cucumber, julienned

100g bean sprouts

3 sprigs coriander, chopped

1 red or spring onion, finely sliced

Dressing; shake together in a jar:
1/4 cup white wine vinegar
¼ cup castor sugar

2 Tbsp sesame oil

¼ cup olive oil

1 Tbsp soya sauce

1 Tbsp fresh ginger, grated

1 clove garlic, crushed garlic

Method: Prepare salad and dress when ready to eat. Top with duck, mango and almond flakes. Season and top with chutney or relish – I use plum chutney. Leftover dressing can be refrigerated.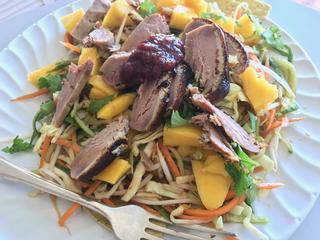 Mary's Mac and Cheese Balls

350g macaroni
CHEESE SAUCE 
45g butter 
45g flour 
450ml milk 
85g Gruyere grated
60g freshly grated Parmesan
150g Mascarpone cheese
Salt and pepper to taste
CRUMB 
Flour 
2 eggs lightly beaten with a fork 
Panko breadcrumbs

METHOD
1. Cook macaroni as per packet instructions and set aside.
2. In a large glass bowl – melt butter in microwave for 40 seconds.
3. Add flour and microwave for a further 40 seconds.
4. Gradually add milk, stirring continuously to avoid lumps forming.
5. Microwave for 2 mins. Stir and microwave for a further 2 mins. Repeat.
6. When the mixture has thickened, stir in the cheeses until melted through.
7. Add cooked macaroni to cheese sauce mixture and season with salt and pepper.
8. Allow to cool in fridge (overnight for best results)
9. When the mixture has set; roll into small balls and coat in flour, egg and then breadcrumbs.
10. Deep fry until golden brown in Canola oil.
11. Serve immediately with your choice of Award Winning NoShortcuts chutney or relish.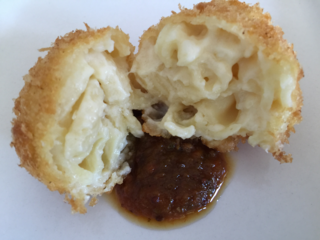 Quick and Tasty Brunch
Toast some hearty grained bread
Smash avocado onto toast
Spread with NoShortcuts Beetroot Relish  
Pop a poached egg on top and you're done. Delicious! 
Add an optional slice of crispy bacon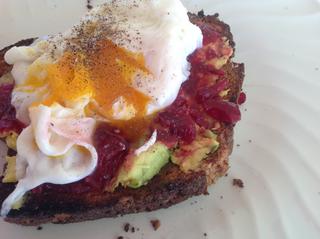 Ideal as Toppings for:

PIZZA BASE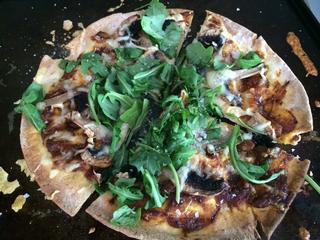 FRITTERS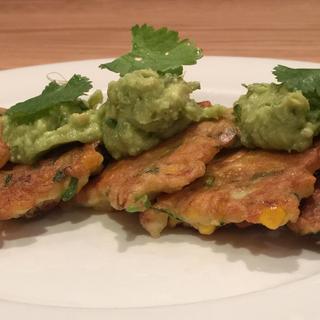 IN SANDWICHES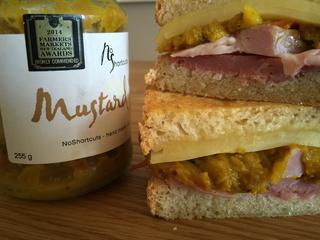 WITH PATE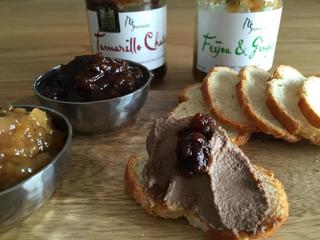 IN SALADS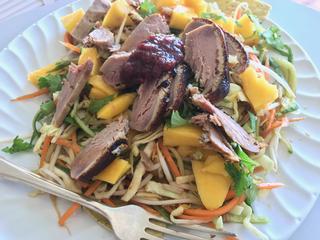 Duck and mango salad with Plum Chutney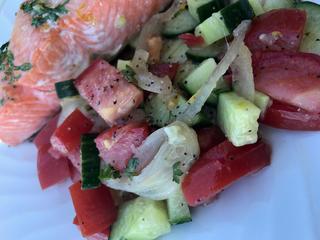 Tomato salad with baked salmon and our Sweet Sliced Pickle